And so came finally the much awaited weekend to redo the recent disastrous escapade, but this time with much caution and careful planning. We didn't want history repeating itself. We reconsidered a safer choice - Laiya, Batangas.
After having been there (Laiya) several times already, we knew we couldn't go wrong. There are a lot of resorts lined up catering to various types of budgets, from "biglaang lakad kahit wala pang sweldo" to the "gusto ko sosyal at memorable" -type.
I wanted to try out Virgin Beach Resort, famous for being the filming location of the Here Comes the Bride movie which i think had made the place even more expensive than it already is. Luckily, this i say because we were not up to spending that much for lodging, all Cabanas - what they call their units - were already booked for the night. They only had Parasols available for overnight stays. I didnt have much problem if i were in a different mood, but for that day i wanted to have the luxuray of having our own bathroom, instead of only a communal type offered for such of rental.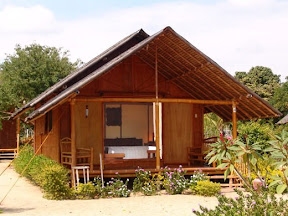 VIRGIN BEACH RESORT, Laiya
UPPER: Cabana
LOWER: Parasol
So we drove further until we sighted a familiar signage (from Googling of course) saying ACUATICO RESORT posted closely with another board which says ACUA VERDE. We were already aware of the high endedness of the former and knew it would not be the best choice for budget travelers like us. We simply wanted a relaxing trip with reasonable expenses. Anyway, here's an inside look to the luxurious one..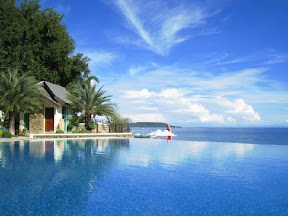 Ahhhhh.. who wouldnt be lured by their infinity pool? Us - or anybody abiding strictly with their limited budgets.
We turned right once we reached the intersection of the narrow dirt road leading to both resorts. This lead us to ACUA VERDE, which turned out to have the same owner as the adjacent luxurious resort we tried avoiding. Surprise! So much for low budget resort picking! We wouldve opted to turn back around, but the width of the road wouldnt just allow. What have we to choose from other than driving straight ahead and just check what they had to offer?
Ambiance was what i noticed almost immediately after entering the gate. Peaceful, no more than 20 people in sight - including resort crews that is. Very private, and my favorite -
sosyal
.
When a staff approached us, our first inquiry was - how much? Here's to summarize her enthusiastic response to our query:
Room: P5,900/night inclusive of the ff:
- free welcome drinks (which by the way is just buko juice with green coloring)
- buffet dinner and breakfast
- unlimited kayaking, beach volleyball
- unlimited use of parasols
- evening bonfire (
nakakain ba yun?
)
- wifi
- airconditioned with bathroom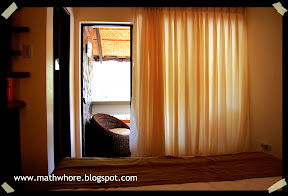 I quickly ran through some calculations and it turned out they offer much less, compared to the same resort class which seemed to offer lower lodging rates with a catch of having to purchase meal packages costing at most 2k per person. This appeared to be the best choice, luckily.
There was indeed a bonfire that night - only that and nothing more - i would have wanted to watch firedancers and stuff. Then the buffet dinner. They offered enough variants to keep it interesting, one of which my favorite - stuffed
inihaw na pusit
. They had soup, pancit, lechon, vegetables, fruits and hot and cold drinks - all good - i tried everything. Yum! The bar by the beach was surprisingly fully functioning even with 1 customer, whom we joined later that night.
Woke up early the following day, not to miss out much of what could be experienced. Breakfast was very Continental, and so was not that interesting for us. It would be nice to have
danggit, tuyo, itlog na pula,
fried
bangus
and the likes. We ate relatively quicker than others since we were eyeing the kayaks, which i mostly wanted to do since i got there - would be my first time ever. It wouldve been a lot of fun if the tides waves were tamer that day. Not the best weather due to the slight shower but who cares - we were getting wet anyway.
All the staff were extremely nice - 5 stars to that - attending to all our needs and stupid questions. Overall, i enjoyed the experience, living up with every bit of my expectation from such place. I would definitely do a come back, once i get the time off from my busy engineering career.
- Posted using BlogPress from my iPad
Zander